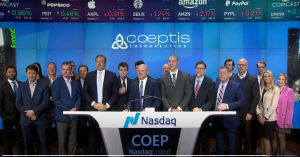 Coral Investment Partners is proud to announce that Coeptis Therapeutics, Inc. (ticker symbol 'COEP') completed its merger with Bull Horn Holdings (Nasdaq: BHSE) on October 31st, 2022.  The combined company was renamed Coeptis Theraepeutic Holdings, Inc. (NASDAQ:  COEP).  This is believed to be the 1st acquisition of a company whose shares were traded on the Over-the-Counter market by a NASDAQ listed SPAC in over 10 years.
On Wednesday, November 16th, 2022, Dave Mehalick and the other members of the Coeptis management team participated in the NASDAQ Opening Bell Ceremony.  Erik Nelson of Coral Investment Partners also participated in the ceremony.
You can view view the Coeptis Opening Bell Ceremony (here).
Coeptis Therapeutic Holdings (www.coeptistx.com) is a biopharmaceutical company developing innovative cell therapy platforms for patients with cancer.  Coeptis was founded in 2017 and is headquartered in Wexford, Pa.
About Coral Investment Partners
Coral Investment Partners, LP. is a private equity fund formed for the purposes of investing in dormant public companies, "shell companies" for the purpose of restructuring these companies. Following the completion of the restructuring process Coral Investment Partners will seek merger candidates who are privately held companies seeking to become publicly traded companies, also known as a Reverse Merger Transaction.  Coral Investment Partners typically invests in its portfolio companies through a combination of debt and equity securities.Coral Investment Partners will work with existing management teams or shareholders to restructure companies.  If you are the officer, director, or a major shareholder of a public company that no longer has operations, please feel free to contact us  to see how we may partner together, or possibly invest in your company.